A pleasant chat accompanied by a nice Hookah Cafe Design heavenly food & soothing music added to the pleasure of elements, even rituals is an experience worth relishing in a cafe. Presenting some elegant cafe which are peaceful venues where your soul can let loose.
The decoration of the hookah Cafe Design that is important at this point … How should be the decoration of Hookah Cafe Design? What privileges would the Hookah Cafe Design offer its customers?
Industrial Hookah Cafe Design
The materials are used in the most natural way possible. No paint, no wallpaper. The concrete, the stone, and the tiles must be felt with all their coolness. Metal pendant lighting, decorative lamps, Japanese lanterns are use. Metal wall clocks, wrought iron fixtures are the decorative use.
Vintage Interior Hookah Cafe Design
The most important detail in the decorations in style is comfort and peace. A feeling of belonging to a tale of great importance in its time while still being very comfortable is vintage. Aged yet in.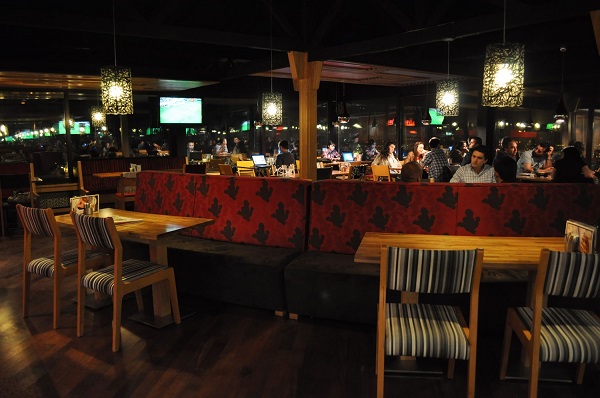 High Ceiling Hookah Cafe Design
Design with Twist – You do not need walls in the decorations. When you need to split the space;The  furniture can put into different shapes. Separating the space with the decorative parts of wrought iron also offers a stylish and aesthetic appearance.
Cafe Design in Modern Lines with Home Comforts
Different shades of furniture and wooden floors with the cooked brick color on the wall add tot he required warmth.
The suspended ceiling in wood has a dual purpose of insulation and decoration. Aesthetics in appearance this ceiling gives the space a cozy energy.
Hookah Cafe Design With Soft Lighting and Comfortable Seats
Drinking is a social and relaxing social activity. For this reason, space must be organized keeping in the mind the basic requirements.
Soft lighting, comfortable seating and cushions encourage guests to sit in the cafe for longer. The number of orders will increase even more when the customer stays in longer. Eating, Smoking & Non- Smoking areas are always beneficial.
Bohemian Style Decorations: Hookah Cafe Design
Hookah Cafe Design are perceived to be more authentic, bohemian and oriental style, and the spatial arrangements are made accordingly.
This type of cafe uses dark walls, colorful furniture, mixed patterns, rugs and decorated accessories, thereby to create mystical air, one must lead customers to mysterious worlds.