Marriage is the most intimated and celebrated relation and the newly weds bedroom interior is a place where love and romance are cultivate, encouraged and celebrated . Often our own rooms are the extension of our personalities and style and females specially with high emotional quotient feel connected to their homes and specially rooms in a personal way. To make an ordinary bedroom suitable for a newly weds, there are some basic essentials.
First and most important step while designing your room is planning. Google & find the images that you desire for your room. Now start by planning designing & detailing. Detailing is directly related to the outcome. If affordability permits it is always better to hire an Interior Designer. Bed is the soul of your bedroom and the first thing that catches eye when you enter a bedroom. It is advisable to buy a good quality bed with a luxurious mattress. The design of the bed has to be in coherence with the interior you plan for your bedroom design.
Newly Weds Bedroom Interior Design, sharp straight line & metal beds are usually for bachelors, high back depicts dignity. Soft curve feminine, whereas gold or silver plated or painted depict royalty. If you choose flat head boards then supplement your mattress with extra large cushion & comfort while sitting or else you can choose a well cushioned head board. The choice of bedding is an important determiner to the look of the entire bed. You can buy linen sprays which can keep the sheet smelling fresh or fragrances that help in distressing.
Soft light & mood lights have a great effect in creating sexy look of a newly weds bedroom interior design. Bright lighting is usually for heavy work areas like kitchen or study. Keep the white light out and bring in new automation technique available for lighting. Yellow or day warm light is suggestive in creating the look desired. You can add a little warmth by adding table lamps or wall lights with light reducers. A touch of red or orange light adds to the romance.
Romantic Feel In Newly Weds Bedroom Interior
It is advisable to go for two layers so that the main curtain can tugged if you desire sunlight in the room. Softer fabrics like velvet give a sensual feel to the room. The sheer curtains can flow with light weight material like net so that it adds to the drama when it goes. Keep the curtains neutral so that they blend with the wall color. Add rugs. The softer the rug – the more sound absorbent quality it has. The woolen rug beneath bare feet feels awesome in winter whereas cotton rugs are more suggestible during summer. A vibrant color in rug peps up the whole room.
Mirrors besides adding sensuality also gives depth to the room. It is great to add mirror behind the bed in a design format to highlight the back wall of the bed. You can also use your own creation by adding mirror to the ceiling.
Trendy Colors For Newly Weds Bedroom Interior Design
Lavender & violet are generally considered sexy colors but you can also choose colors from neutral tone like warm white, lightest light green & raw silk. They act as a back ground where you can accentuate with color in bedding, pillow, rugs, curtains, lampshades & accessories. Colors have a strong effect to the emotions . Add colors that make you happy and are pleasing to your eyes, not getting away with the latest trends.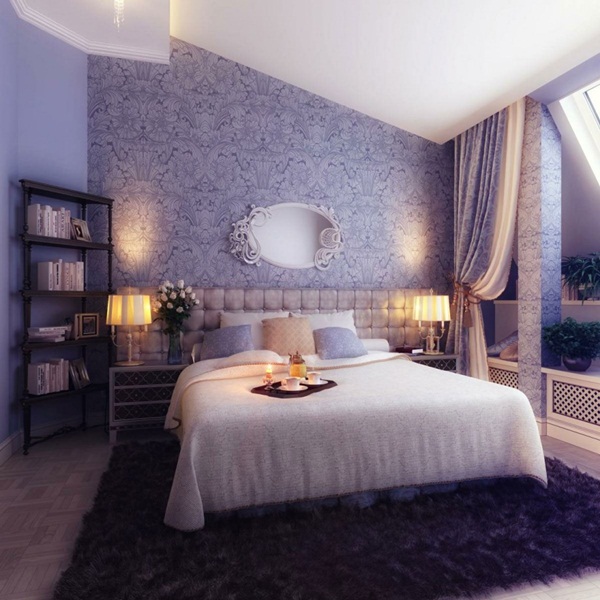 Beautiful Arranged Flowers and Candles In Newly Weds Bedroom
Add aroma to your room by adding aroma oil burners. Lavender aroma is recommend for relaxing. Candles can add a romantic connection, warm and sexy look. You can add fresh flowers in a bouquet or just pep around with candles.
You can add soft music to make your bedroom a retreat. Music somehow has a metaphysical connection to make the mood . It has a powerful healing aspect on human spirit and the right kind of music can bring the desired emotion in a human being. You can choose your music system but include the songs that are soft, speak of love and carry special meanings and memories. It is advisable to keep all non-bedroom activities, out of the bedroom. It is recommend to keep workplace out of your romantic bed room.
Newly Weds Bedroom Interior with Paintings
My personal suggestion would be to keep the TV outside. It is equally essential to keep your room clutter free . The newspaper, dirty laundry, unnecessary paintings or decorations should not allow in the newly weds bedroom. Even your bed side drawers should not be a stack of bills, coupons, random news letters. Rather show-case your best decorations, pictures with beautiful memories attached, moments of your travel together or decorations which make you happy are special invitees. A copy of your wedding vows or your ambitions for the year can be frame and put on wall.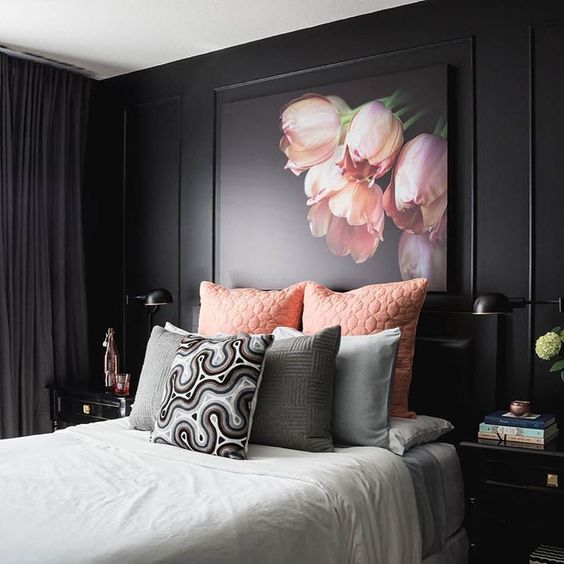 To spice up your boudoir a nice arm chair or a love seat is great to cuddle and sit together. You can add a few paintings which reflect intimacy and coziness. Nothing feels better than silk bedding and extra soft mattresses under your body and a nice pashmina blanket to cover you.
It is important to choose right flooring material. Instead of using cold flooring like ceramic tiles, marble or granite, make use of laminated flooring, wood, or carpet which are warm. It is also important to have good ventilation so that fresh air can reach the farthest point. Your bedroom reflects your personality but in a romantic bedroom, it should reflect love, romance, togetherness rather than individual personality.