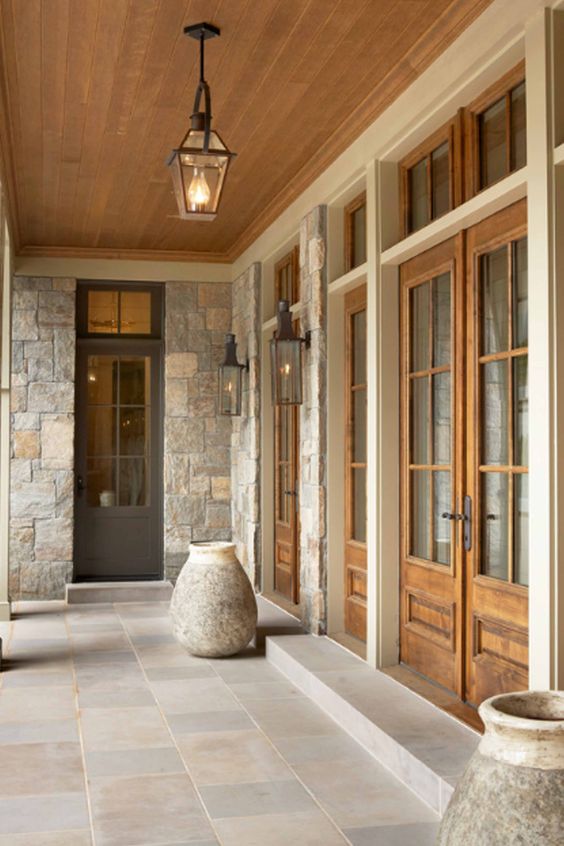 People spend longer and longer time in places where they live and work in which exterior flooring plays a major role in creating an environment with Comfort Hygiene, Elegance, Style, and Beauty.
The purpose of flooring is to provide a horizontal clean surface to support the occupants of the building and furniture.The flooring structure should be strong enough to bear loads in interior or exterior floor.
There are various types of exterior flooring available in the market. Some of them being Cement Concrete Flooring, Terrazzo Flooring, Stone Flooring, Brick Flooring, Tile Flooring, Linoleum flooring, Rubber Flooring, PVC Flooring, to name a few. Recommended outdoor flooring area wooden, cement concrete flooring, stone flooring, Tile flooring.
Tile Exterior Flooring
Tile flooring is one of the most common exterior flooring. These are affordable, have low maintenance, can easily match any decor. Tile is available in an infinite number of colors, sizes, shapes, and finishes, so is no limit to the beautiful, personalized designs you can create.
Tile is fashionable and practical with its natural look, beautiful designs and durability.
First things first, you'll need to choose the right tile. Think about usability. Check the functionality. The quality of tiling is important. The thin tile will take less abuse. Consider several elements such as the color and texture. Often times you will also have a pattern in the way they are set. Sometimes you can find accent pieces to fit within the design as well. Laying the floor correctly is vital. A flooring that is not set correctly will crack or buckle through time.
The clean lines with texture on outdoor for higher co-efficient friction i.e slip resistance is the recommended choice. The design of the tile should visually match the continuing across the threshold. Flooring pavement which is 2cms tiles in all sorts of shapes installed by the loose lay method is highly in vogue.
Concrete Exterior Flooring
Concrete Flooring is probably the oldest method of exterior flooring. But as all products, this also has evolved over time. Concrete flooring highly versatile from both a functional and aesthetic perspective
Initially, the look of cement flooring was limit to plain, worn, gray concrete, but now the choices are endless. With the colored, stamp, stained, stencil and engraved options; the horizon of choice has increased multi fold. Feasible, distinctive designs available in the stamping makes it the easiest and cost-effective solution.
Coloured concrete can nearly assume any shape, design pattern and texture but the most distinguished feature is the uniqueness of each design and the wide pallet of colors to choose from. This kind of flooring has the color mixed in the concrete hence any wear and tear will show up the same color from inside.
This type of flooring camouflages the tile effect where the wet concrete is a stamp or imprint, creating a cost-effective replica. Color concretes can also be stamp, thereby opening an era of combinations. Staining of concrete done by putting stains on the wet cement floor, hence the look is not even as coloring while they offer more dramatization and the bolder design patterns. Staining quality would depend on the applicant's hand.
Stenciling on the concrete floor was an age-old practice in India which is still visible in the old monuments. Recommended for interiors and not for exteriors as the surface applicant fades away in the sun but just to create that old world feel one can use the patios and cabanas.
Apart from coloring and staining aggregate also offer options for texture variations. These aggregates material can be either natural or manufacture. While making the surface rough, they offer high friction pathways, hence recommended for sidewalks, driveways, pool decks and patios.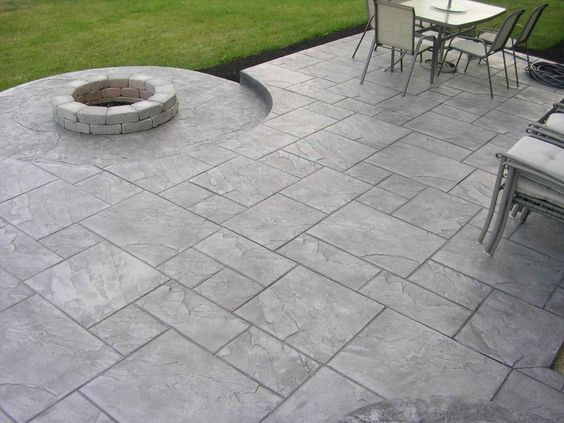 Engraving or pattern stamping is a technique to etch patterns and design into wet or dry concrete. It is a permanent treatment and offers in numerous decorative possibilities.
Combing stamping and stenciling, staining, coloring and engraving or exposing aggregate one can create unique patterns like painting on a blank canvas.
Stone Exterior Flooring
Stone definitely takes the crown when talking about the flooring. Available endless options of colors, styles, texture, and thickness, it offers in numerous choices to the designer.
Interior stone is use in exterior flooring. Though not as tough as granite, it is sometimes chosen for its beautiful colors and patterns it offers. This stone needs a chemical treatment to make it porous and weather resistant.
Granite though ageless consider contemporary and is one of the preferred choices because of its never wearing out quality, it is used extensively, polished or rough finished in the outdoor flooring,
Quartzie a metamorphic rock is also a very hard and strong rock and finds its use in countless places. This natural stone has a very detailed crystalline structure, which grants it a slightly lustrous, very rich appearance and hence used in exterior flooring.
State and fossil stones are metamorphic in nature. Each stone is different from other thereby making a dramatic appearance on floors. When stretched over huge areas, they tend to write their own story with no artificial coloring agents or chemical treatments, the slate is kind of ageless.
The sense of design remains the same in the interior as well as exteriors. Like we mix n match flooring of different rooms in a home, similarly one can mix styles in the outdoors. Use different textures, colors, sizes to give each area its unique identity. The colors should be adjust and your creativity will play the turning point.